One of our patients, Alison, underwent an Invisalign treatment with me in 2013 and asked to share her story. We were thrilled to accommodate her. Here's what she had to say about her Invisalign experience at SF Dental, the questions she had before starting the treatment, and why she decided to pursue treatment with us.
Hi everyone! Most people who are interested in straightening their teeth have a ton of questions about Invisalign, and they want to hear about it from people who have gone through it already. It was the same for me, and I watch dozens of YouTube videos before I decided to bring it up with SF Dental. Now that I've been through the process, I felt like it would be good to share a few Invisalign tips for anyone who is feeling unsure about whether or not to bring it up with their dentist.
The backstory: rebellious kid, self-conscious adult
I am a 26-year-old female, and I had what they call a "relapse case," because I've had traditional braces before. That was back in middle school, but you know how kids are—I hated wearing my retainer and used every excuse in the book to avoid it. So I guess it's not that surprising that my teeth became misaligned again and as I entered adulthood, I really started to regret not wearing that retainer.
My relapse was a slow process and I don't think I even really noticed until my sophomore year of college. But one day, I saw a picture where a couple of my teeth seemed to catch the light more than others, and that really exaggerate how crooked they were. After that I kept on noticing, and they kept on getting more crooked as the years went on. It finally came to the point where one of my two upper front teeth was protruding noticeably and the bottom row of teeth were completely misaligned and overlapping each other.
I became increasingly self-conscious of my teeth and even found myself modifying my smile to try to show the bottom teeth less. I would attend business meetings and catch myself thinking about my teeth and whether people were noticing them, instead of focusing on what my colleagues were saying. I knew it was time to do something about it.
Finding the right Invisalign dentist
About two years ago, after watching all those Invisalign videos, I had a consultation with an orthodontist. I felt I was too old to wear bulky, uncomfortable metal braces, and at the consultation, they said I was a perfect candidate for Invisalign.
Everything sounded promising—until we got to the financials. They gave me a quote for almost $7,000! During my online research, I had found numerous websites that estimated the average cost of Invisalign to be $5,000. Needless to say, I was a bit sticker shocked. I thanked them for their time, and said I would need to think about it.
Dr. Kivel at SF Dental is my regular dentist, and at my next appointment I brought up the Invisalign situation. To my delight, I discovered that general dentists can do Invisalign too, and it's much cheaper than going with an orthodontist. I could get the entire procedure done for about $5,000, which is much more in line with the research I had done.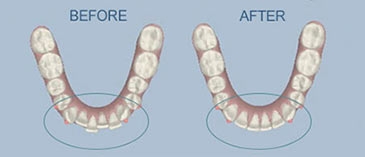 In addition to price, I felt a lot more confident in doing the treatment at SF Dental because Dr. Kivel generated a computerized mock-up of what my treatment would be like. At my initial consultation, he took impressions of where my teeth were in their current state, then a few days later I got an email with my entire treatment plan. The plan included an animation of what the movement of my teeth would be like, called a ClinCheck. I watched it at least 15 times. I even sent it to my family and friends! It is so useful to be able to see the change that Invisalign would make on my own teeth ahead of time. If you're on the fence about whether or not to do clear braces, I would highly encourage you get a ClinCheck done.